What Plastering Tools Do I Need?
So you recently had a hunch that you are going to learn how to plaster but got struck by the reality that you have no clue on what tools you will need to get started.
Well, you don't have any cause to worry because in this article we, at The Swindon Plasterer, will reveal the various tools you will need to get started plastering.
We'll provide you with a master checklist of the tools you will need with all the necessary examples and options to help you achieve success in your newly discovered obsession. Don't waste time beating around the bush and let me guide you on the right course of action to take.
Here is a quick rundown of the primary tools you will need to get started:
Plastering Trowel
Bucket Trowel
Plaster Mixer
Hawk/ Hand board
Water brush
Buckets/ Mixing buckets
No doubt as you progress into becoming more skilful at plastering, you will start to explore the several other tools that are available at your disposal. These tools will enable you to get creative and produce more quality plaster jobs and also help you become a pro in no time.
However, before we delve thoroughly into these tools, we first need to clarify an important issue.
Cheap Plastering Tools – are they worth it?
The answer to this question is an emphatic NO!
When you decide to purchase plastering tools from substandard suppliers, you are bound to get a poor quality finish. You can't expect to get a flat, smooth and perfect finish on your wall by using a Trowel you got from a pawn shop.
So, if you're truly serious about plastering, you have to be ready to spend some cash and get yourself some quality plastering tools. In this article, we will be discussing each of these plastering tools in detail and provide you with valuable information on which standard tools you should use and their importance where necessary.
Plastering Trowel
This is one of the essential tools used in plastering. You will need to get a very good Plastering Trowel before even thinking of starting out with plastering. Choosing the right Plastering Trowel, however, is where many people tend to falter.
The good news is, we're going to show you how to select the best Plastering Trowel for the job you want to do.
Here are a few things you will need to consider:
What Size of Trowel Should I Use?
The size of the trowel you plan to use is of utmost importance, so when buying one, it is recommended that you pick a 14 inch (") stainless steel plastering trowel. Most experienced plasterers would suggest that you go for a 12″ trowel because it allows for more control.
The problem with this advice is that it makes your work effort feel less productive. Small trowels usually have less space to hold the plaster, and as a result, you may find it difficult to apply it to the wall. The bottom line is that you will be better off starting plastering with a 14″ trowel. It might require some effort at first, but you'll get the hang of it as you progress.
For optimum results, we recommend that you use stainless steel, 14″ x 5″ trowel from Marshalltown. These special trowels are well known in the market for their resourcefulness, and they're an excellent option for beginners in plastering.
The Marshalltown trowels also guarantee sturdiness, comfort, and most importantly a sublime finish. The 5" width accommodates a much larger surface to get accustomed to the transition of applying the plaster.
The Marshalltown MPB145GSD Stainless Steel Plastering Trowel is a great place to start. It is a highly versatile trowel that can be utilised for all types of plastering and by just about anyone at different stages their plastering career. As a beginner, you're going to enjoy using it.
By all means stay away from cheap, substandard trowels. As earlier pointed out, such poor quality trowels only breed disaster – they do not last, they rust easily and get corroded after use. Spare yourself a headache and go for a good, well-reviewed trowel – they may cost more, but they make your work much more comfortable and will last a long time if properly maintained.
Bucket Trowel
This tool is typically used to scoop the plaster out of the bucket while applying the plaster. They are available in hundreds of shapes and sizes and can be easily sourced from your local retailer. Depending on which ones you plan to purchase, you should be budgeting around £5 – £10 for a piece. Unlike plastering trowels, bucket trowels do not require spending vast amounts on them for quality purposes since their appearance do not affect the outcome of your plastering.
Hawk/ Hand Board
This plastering tool is what is used to hold the plaster in place while you scoop from it with your trowel. They also come in varieties of shapes and sizes and are usually held in the palm of your hand.
You should go for whichever option suits you but here are two of the best that we recommend:
Foam/ Plastic Hawks
These foam/ plastic hawks are perfect for beginners due to their lightweight and ease of use. It can be physically draining to your arms when you are holding a full trowel weight of plaster for hours on the end of your arms, but with this plastic hawk, your muscles won't ache, and you'll be able to finish up your work in no time. The only downside of using this plastering tool is that due to its lightweight it is prone to cutting in half after a while.
Aluminum Hawks
Made of lightweight aluminium material, these hand boards are the favourite of many. They may cost more than the plastic hand boards but will last a lot longer. As earlier stated, you don't need to spend a lot on hand boards, but if you're looking for one that'll last, then the aluminium hawks are your reliable option. We highly recommend the Marshalltown hawks due to their comfortable Durasoft handles.
Plaster Mixers
Investing in a quality mixer is also very important if you want to start plastering. There is a wide range of mixers available that you can choose from but we'll help you out with some of the main ones.
Here are the top picks that we recommend:
Refina MM30 Mega Mixer:
Produced in Germany by Eibenstock, the
Refina MM30 Mega Mixer
featuring its powerful 1800W motor can be a firm favourite among the plastering and rendering trades. The heavy-duty high-torque motor and 2-speed gearbox generates a fast and thorough mix action with consistent results that creates light work of even large volumes of plaster or external render. The Megamixer Drill has a soft-start variable speed to lower start-up splashing and also the MR3 spiral paddle easily converts power tool torque to your consistent mix action. The newly designed ergo-design H frame handle gives a comfortable position for simple handling and will help protect the motor from damage. This powerful and efficient tool is the perfect mixer for contractors who call for a consistent output.
Nordstrand 1800 Heavy Duty Mixer:
This mixer is designed for all users all over the spectrum. Whether you will need a mixer for your personal DIY project or perhaps you need one being an crucial in your professional trade, the
Nordstrand 1800W Plaster Mixer
is perfectly suited for your requirements. This is certainly largely in part due to the ergonomic design that is not only user-friendly but additionally intuitive for users. Furthermore, it has a robust construction that gives it exceptional durability. Importantly, it has the proper mixture of features to manage a variety of tasks including mixing mid-viscosity liquids. This is certainly powered from a powerful 6000 rpm motor with six-speed controls.
Vitrex MIX1400L Plaster Power Mixer:
The
Vitrex MIX1400L Plaster Power Mixer
is actually a powerful mixer that has been built to mix grout, cement, plasters, fillers, paints, adhesives, and also other construction mortars. It comes with the ideal combination of features to for enhanced productivity. As an illustration, it comes with two gears for variable speed. Importantly, the mixer's speed could be locked for continuous operations. Additionally, the speed is controlled electronically rendering it easy for users to obtain the setting they require for your material under consideration. Around the design front, this mixture has a ergonomic design plus a lightweight construction to find the best user experience possible.
Baylola 1600W Plaster Paddle Mixer:
Are you presently available in the market shopping for a powerful plaster paddle mixer? If so, the
Baylola 1600W Paddle Plaster Mixer
is made for you. It arrives with 1600W and a variable speed setting for any type of tough mixing job. This paddle mixer includes a 360-degree double helix head over to boost the efficiency of your own project. The electronic overload protection helps prevent the motor from the mixer from overheating under continuous working pressure. The beginning of the mixer is electronically controlled and soft. This will likely prevent the powder and liquid from splashing up when mixed. Click here for an entire report on the Baylola 1600W Plaster Paddle Mixer.
Silverstorm 264219 Plaster Mixer:
The
Silverstorm 264219 Plaster Mixer
has two speed settings to have the required consistency inside the preparation of various materials like plaster, adhesives, cement, and paint. Having its powerful 1220W motor it would make a handy accessory for your construction tool kit. The 2 handles on either side from the mixer are rubber coated for a comfortable and safe, stable grip. A soft-start function delivers instant power along with the on/off lock switch prevents accidentally starting the motor. It appears complete with a 140mm mixing paddle, two spanners, two carbon brushes, and tools to maintain the paddle mixer.
Water Brush
Another essential plastering tool you will need to have as a beginner in plastering is a water brush. It is an indispensable tool that is used to conclude the plastering process. It is usually applied to the final coat of the plaster to stop the plaster from pulling off, thus leaving a perfect finish.
The water brush can also be used to apply water to the plaster when you're yet to finish, and the plaster is already drying up. It is undoubtedly an essential tool that can save both you and your plastered walls when you most need it.
Water brushes come in a variety of sizes and can be applied in many ways. You can get a 6″ water brush or a 4″ masonry brush from Travis Perkin. They are sometimes expensive but will last longer, make your walls sparkle and are way better than using cheap brushes which leave bristles in your plaster.
Cleaning Brush
These are thick hand brushes that are used to clean your plastering tools and your buckets. There are various types of hand brushes available that you can use for cleaning your plastering tools, but we recommend that you go for a plastic brush. They're small and thin enough to pass through the paddle of the mixers, which will guarantee a thorough cleaning.
Mixing Buckets
Mixing buckets are containers used to hold the plaster in a while mixing. They are critical as well, and we recommend that you go for the big Gorilla tubs when shopping for your mixing buckets. They are versatile, sturdy and can last a long time if properly maintained.
Nordstrand 1800W Pro Portable Hand-Held Mixer Review
Over the past year, I have worked in the industry of masonry construction, where I have spent many hours working with concrete by mixing the material in a bulky and large cement mixer. The mixer was very heavy and needed to be rolled to get it from one place to the next on job sites. I was still new to this type of work and I was not aware there were other options available.
One day the foreman overheard me talking about my grievances about the mixer where he made a suggestion that I invest in one of the latest hand mixers opposed to using the heavy duty and old equipment. When I heard that there were other options, I immediately started to conduct my own online research. If you are struggling with one of the outdated heavy-duty mixers, you should definitely think about investing in an upgrade in association to the latest handheld alternatives. These are ideal for the mid-viscosity liquids such as plaster, cement, mortar, and glue.
The size does, however, limit these products to the small onto mid-sized batches, which is usually the only standout drawback.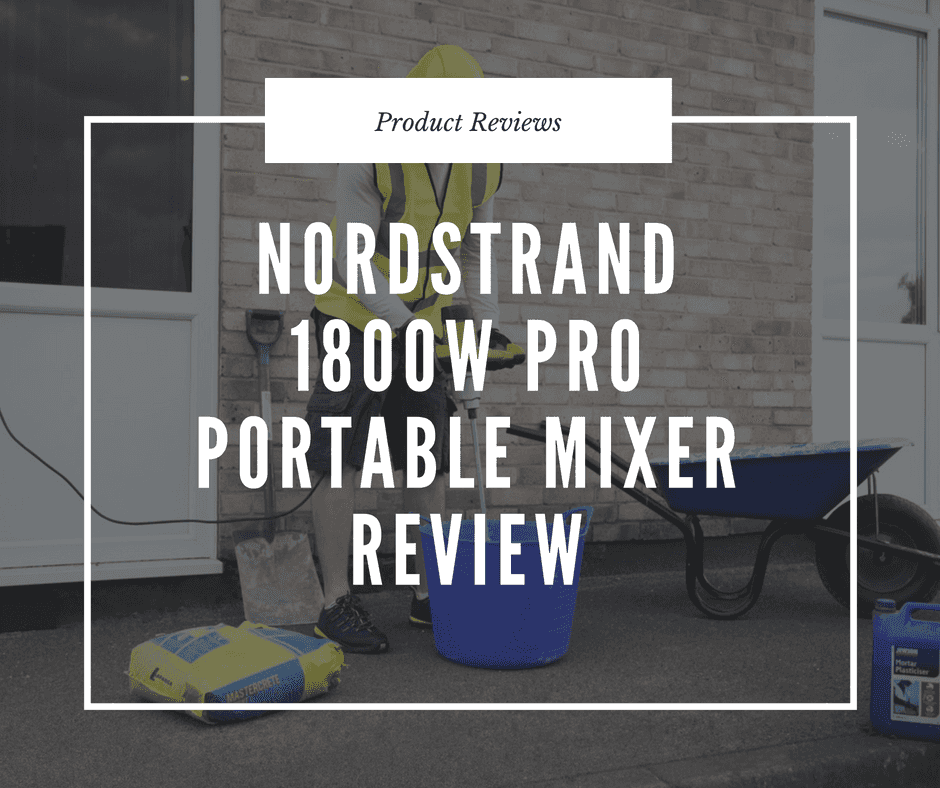 "Introducing Basic Plastering Tools" Video
"5 Tools You Need To Start Plastering - Plastering For Beginners" Video